With the depth of our collective years and experience in the industry, our team of professionals has the knowledge and hands-on experience to bring your ideas to existence. We have engaged some of the most talented individuals in the area to enhance our capabilities, quality, and service.
Our manufacturing facility is well-equipped to produce a wide range of projects from one-of-a-kind designs to rollouts for multiple locations. We are conveniently located off Route 2 in Central Massachusetts.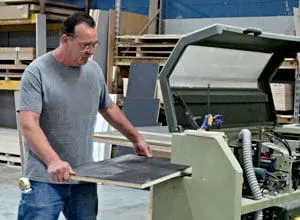 We work with many materials including wood and veneer, laminate, acrylic, plastic and foam, paint and stain, metal and vinyl.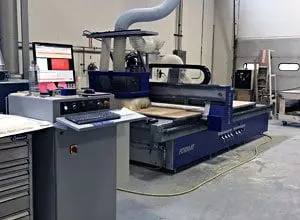 The use of our two state-of-the-art Felder Format 4 CNC Machines allows us to produce components quickly and efficiently, which saves a tremendous amount of labor time for our clients.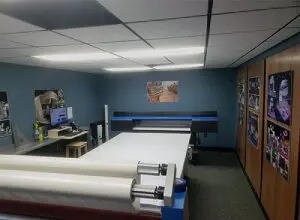 Our graphics department can utilize your files to create custom, bold graphics that will add the perfect finishing touch to your properties.
Exhibit Technology is all about teamwork. We work together on every project to ensure our client's needs are met. Whether it be project management, CAD engineering, fabrication, graphics design, or installation, we come together as one to ensure the flawless production of our client's visions.
Partner and General Manager
With over 35+ years of experience in the industry, Rick had a vision of bringing together the millwork and corporate branding markets with trade show exhibits, to create a diverse, strong manufacturing operation.
Rick took his inspirational vision to Exhibit Technology and brought it to fruition. As a result of this vision, Exhibit Technology has more than doubled its sales. Our manufacturing space has doubled as well. He is
proud to be "Your Partner in Fabrication."
Estimation and Operations
In his 35+ years in the industry, Mark has built exhibits, retails stores, and has worked in the field on both exhibit setups and store installations. He has a vast knowledge of materials and the processes of fabrication required to bring a project to completion.
All this experience is brought together in his providing detailed estimates for a project, purchasing of project materials, and follow-through to bring projects to a successful conclusion.
CAD Engineering and Design
Phil has been in the exhibit industry for more than 44+ years and part of Exhibit Technology for over 39+ years. He has hands-on experience in engineering, machining, building, graphics, show setups, and field services.
His vast experience is key to working with clients in moving their designs through engineering and fabrication to end the process with a product that is user-friendly
CAD Engineering and Design
Bruce has been with Exhibit Technology since 2015 and has been in the industry for over 34+ years. He has a background in engineering, machining, building, graphics, show setups, and field services.
Bruce's project management skills and well-rounded industry experience have proved to be great assets to Exhibit Technology.
CAD Engineering and Design
Dave has been with Exhibit Technology since the beginning of 2018 and possesses more than 30+ years of experience in the exhibit and trade show industries.
From initial concept development to fabrication and execution, Dave works closely with clients to bring their projects to fruition
Each a Craftsman
Our shop team has a very deep background in the industry, and it shows in their fabrication skills and attention to detail. They are all dedicated to using their talents in producing a product of high quality with unwavering attention to our clients' designs.
With our ever-growing business in a fast-paced industry, Exhibit Technology is always accepting applications from talented and motivated job seekers. Please see a list of our current career opportunities. We appreciate your interest!
Exhibit Builder/Millworker
Seeking a full-time Exhibit builder/millworker. Must have experience.